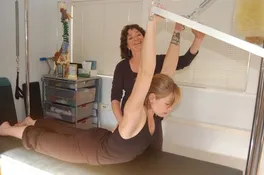 Pilates is a versatile form of exercise, which works deeply into the muscle through concentration, breathing and controlled movement. Pilates based exercise is an alternate approach to total body conditioning. It helps to build strength and flexibility, with an emphasis on lengthening the body and aligning the spine. The focus is on the core or "powerhouse" region of the body which includes the muscles of the abdominals and the lower back. Pilates is invaluable not only as a fitness endeavor, but also as an important adjunct to professional sports training and physical rehabilitation.
Revitalize Integrated Body Systems offers Pilates as a form of fitness training and as a means of performing therapeutic exercise for rehabilitation. One on one instruction is provided for healthy individuals seeking Pilates as an alternate form of exercise. Individual Pilates programs are established for injured persons based on medical necessity, and are carried out under the direction and supervision of one of our Chiropractors at Revitalize Integrated Body Systems.
Revitalize Integrated Body Systems offers private, duet and small class sessions which are led by our experienced Team of Instructors. Our instructors specialize in Rehabilitation, Full-body conditioning, as well as pre/postnatal Pilates. Our instructors have successes with various injuries including disc herniation, fallen arches, rotator cuff injuries, knee instabilities, and postural problems. Many people with fibromyalgia and arthritis have also found great relief performing daily tasks after working with one of our instructors.